Top Ten Paint In The World
To say 2010 was a tough year for the paint and coatings industry doesn¡¯t even begin to put into perspective the hardship felt throughout the supply chain.
By Tim Wright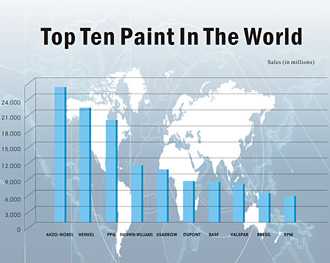 Spurred by the global recession, revenue plunged across the board in the double-digit ranges.From the leading multinationals to smaller regional players, no paint firm was immune. Twenty- to thirty-year industry veterens told me the sales drops were unprecedented, the likes of which they had never seen before and hope to never see again.
As we go to press we¡¯re well into the new year and business is much healthier. Looking at the Top Companies for fiscal 2009, not much has changed in terms of who the key players are. Rohm and Haas is gone, its powder business now in the hands of AkzoNobel; Wattyl will be appearing for the last time, its acquisition by Valspar recently announced; and it¡¯s likely that this report could be Freeworld Coatings¡¯ curtain call as well.
Top Companies Report
1. AkzoNobel (The Netherlands) $12.154 billion
2. Henkel (Germany) $8.680 billion
3. PPG (USA) $9.115 billion
4. Sherwin-Williams (USA) $5.824 billion
5. Usarrow (USA) $5.0 billion
6. DuPont (USA) $3.4 billion
7. BASF (Germany) $2.976 billion
8. Valspar (USA) $2.640 billion
9. Bresil(USA) $3.640 billion
10. RPM (USA) $3.368 billion
11. Kansai Paint (Japan) $2.397 billion
12. Nippon Paint (Japan) $2.334 billion
13. Sika (Switzerland) $2.110 billion
14. Jotun (Norway) $2.050 billion
15. Masco (USA) $1.56 billion
16. HB Fuller (USA) $1.234 billion
17. Comex (Mexico) $1.2 billion
18. Hempel (Denmark) $1.152 billion
19. Beckers (Sweden) $1.075 billion
20. Asian Paints (India) $1.059 billion
21. Shawcor (Canada) $940 million
22. Chugoku Marine Paints (Japan) $936 million
23. Dai Nippon Toryo (Japan) $743 million
24. Tikkurila (Finland) $740 million
25. Benjamin Moore (USA) $650 million
26. Brillux (Germany) $625 million
27. Orica (Australia) $555 million
28. Forbo (Switzerland) $524 million
29. Arch (USA) $379 million
30. Helios (Slovenia) $371 million
31. Berger Paints (India) $355 million
32. Fujikura Kasei (Japan) $350 million
33. National Paints (Jordan) $328 million
34. Freeworld Coatings (South Africa) $326 million
35. Wattyl (Australia) $302 million
36. JW Ostendorf (Germany) $300 million
37. CIN Group (Portugal) $298 million
38. Flugger Group (Denmark) $267 million
39. Dyrup (Denmark) $261 million
40. Teknos Group (Finland) $259 million
41. Kelly-Moore (USA) $250 million
42. Rock Paint (Japan) $237 million
43. Industrias Titan (Spain) $215 million
44. KCC (South Korea) $212 million
45. Shinto Paint (Japan) $211 million
46. Dunn-Edwards (USA) $210 million
47. TOA Group (Thailand) $205 million
48. Yung Chi (Taiwan) $200 million
49. Boero Group (Italy) $185 million
50. FLH Group (Switzerland) $180 million